James Hickey
21
6'2 // 92kg
Studying: 4th year Engineering
School: St. Michaels
Honours: Leinster U18s, U19
This year's captain, James had another strong season last year helping DUFC to the AIL semi-finals. A natural leader, James sticks out head and shoulders (but mostly head) from the rest as a vocal presence on the pitch. James is most liked during his scheduled and well needed 'quiet hour'. Always leads by example.
Adrian Binders
20
6' 2 // 93kg
Studying: 3rd year BESS
School: Blackrock College
Honours: Luxembourg
Our hard-hitting Luxembourg international battled with injury early last year to come back and star for the U20s All-Ireland campaign. One of the hardest working players in DUFC, Binders is a workhouse both in the gym and on the pitch. Binders is ready to bring his physicality to 1st XV rugby.
Alan Francis
20
6' 1// 96kg
Studying: Business and Management DIT
School: Blackrock College
Honours: Leinster U19, U20, Ireland U18
Franno joins us from Blackrock RFC after apparently putting the team on his back. A 110 metre hurdler in the past, Franno is a great athlete and has shown huge potential in just a handful of training sessions since his arrival. It is yet to be seen if he will be able to reconcile with his now teammate, Mick O'Kennedy, after promising to hospitalise him in their SCT clash in donnybrook. He will certainly make a very strong case for a starting berth in what is already a very competitive back row this season.
Arthur Greene
21
6'4 //102kg
Studying: 4th year Geography and Geoscience
School: St. Michaels
Arthur is another member of the 2018 All-Ireland U20s winning team that has moved his trade into senior rugby. A true club man, Arthur was one of the coaches for the Women's team last year and can usually be found at any DUFC event involving pints. A man who runs, albeit at the same pace, for the whole 80 minutes Arthur works tirelessly and puts his body on the line every game. With Arthur being unhygienic and generally unkept, it is fitting that his party piece is showing people his toes. All jokes aside they're messed up.
Aziz Naser
20
6' 3 //115kg
Studying: Legal Studies DBS,
School: St. Fintans
Honours: Leinster U18 clubs, U19
Aziz is a hardworking young player with great potential as he has shown multiple times. A physical tighthead prop, he played in many games for the 1st XV last season and will hope to build on this game time this coming year under the watchful eye of Hugh Maguire. A man of many talents Aziz can leave you in stitches with his hard hits and witty one liners.
Bart Vermeulen
19
6'2 //103kg
Studying: 2nd year BESS
Honours: Belgium U18
Bart is a workhorse when it comes to anything about rugby. A self-confessed gym addict, Trinity's Keep Rugby Clean ambassador puts up some jaw dropping gym scores for a 19 year old. Bart made the transition to prop last year and performed extremely well for someone who was a complete stranger to the position at the start of the year, a testament to his hard work and obsession to always improve. When he's not murdering Fenners in a "grab" drill Bart can be found watching Love Island, Bridget Jones Diary or having a protein shake as a desert.
Billy O'Hora
21
5'10 //95kg
Studying: 4th year BESS
School: Crescent College
Honours: Munster U18 Schools
A powerhouse of a winger with great pace and competitive nature, Billy re-joins us this year after an unfortunate training ground injury followed by an Erasmus to Australia robbed us of him. Despite this he has a wealth of AIL experience having played when he was in 2nd year. A great man to have on the pitch, in the changing room and during a sing song. Best avoided on a night out, which is usually easy enough seeing as he is most likely already in a jail cell.
Cameron McCrum
23
6'5 //115kg
Studied: BESS
School: Belvedere College
There are three certainties in life, death, no one liking Nulty and Cameron McCrum announcing he will stay on at DUFC for another year. Cam, who is very fond of an accumulator on just about anything, is still the bookies favourite to be the youngest ever DUFC president in the clubs history. A club man who is at the heart of the changing room jokes Cam is also very involved in the organising of social events and all things DUFC, it came as a relief to the whole club that Cam is with us for another season.
Conor Lowndes
23
6'0 //90kg
Studying: 3rd year Genetics
School: Colaiste Iognaid
Honours: Connacht U20s, A, Ireland 7s, Irish Universities
Lowndesy is in his second year with the club now having spent time in the Connacht Academy and with the Irish 7s. A very physical scrum-half who has the ability to play almost anywhere across the backline. Lowndesy is a big social media user, so much so that he often pretends to go spear fishing for the sake of an Instagram and likes to live stream a cover of Sticky Fingers in his back garden. His long blonde surfer hair is an easy spot on the pitch, his bullet of a pass and enormous box kick are also eye catching. Lowndesy will be looking to continue on his fine form of last year and attain as much game time as possible with the 1st XV.
Colm Doyle
21
6'1 //82kg
Studying: Yodelling
School: Newbridge College
Honours: U15s Connacht Wallball, Ireland U19 Rugby League
Doyler is a skilful and courageous scrumhalf, outhalf or centre, a man who puts his body on the line with each tackle and enjoys a skip pass. Doyler played for the J1 side for most of last year and will hope to build on the improvements he made. A man who always loves a good meme.
Colm Hogan
22
6'2 //95kg
Studied: Law & French
School: Glenstal Abbey
Honours: Munster U18, U19, U20, A, Ireland U18, U19, U20, 7s, Irish Universities
Last year's club captain has to the delight of the club announced he will be togging out in the white jersey again this year. A cruel injury picked up in the Colours win sees Colly unavailable till October. Never afraid to tell a joke, no matter how bad it is, Colly usually is his own hype man and frequently high fives himself when no one else will. A fullback or wing who showcased moments of individual brilliance last season and one of the most experienced players in the squad, Colly's presence this year will be of massive help to the team.
Darragh Porter
21
6'0 //85kg
Studying: 4th year Engineering
School: CBC Monkstown
Darragh was forced into a year sabbatical last season due to an unfortunate jaw injury, the cause of which remains vague to this day. A lightning quick winger who is equally as strong, Darragh is an impressive athlete who understands the game. He comes into this season hoping to continue his prolific form at U20 level and earn his starting spot in a hotly contested back three. It is a widely held view that Darragh's dad is much cooler than him.
Donal Liddy
22
6'0 //90kg
Studying: Aeronautical Engineering
School: C.B.S Mullingar
Honours: Defence Forces, Ireland U19 Rugby League
Lids is a very powerful winger who loves the physical side of the game. He is also a great aerial threat as he showed last season fielding many box kicks and high balls. A member of the Air Corps and recently graduated from his degree in Aeronautical Engineering, Lids is a man of many talents.
Donnchadh Mescal
20
6'2 //117kg
Studying: Human Resource Management DIT
School: Blackrock College
Honours: Leinster U18 Clubs, Ireland U19
Mescal is in his second year now with the club having had an injury ridden season in first year. A player with great potential but it's difficult to know seeing as he only played 23 minutes of rugby for the club. One of a number of players who will be looking to nail down his claim for the spot at hooker, Mescal is a great person to have in the changing room and is always one to whip up a cup of tea with a box of Cadburys Chocolate Fingers on the side.
Dylan Doyle
23
6'4 //123kg
Studying: Automotive Management & Technology
School: Ratoath College
Honours: Leinster A
A quiet but crucial member to the squad last year, Dylan proved to be a vital member of the squad as the team reached the top 4 of the AIL. A smart and mobile player for a big man, Dylan's scrummaging improved with every week last year under Hugh Maguire's watchful eye. A friendly giant and great singer, we look forward to see Dylan progress even more this year with hopefully more renditions of his *clap clap clap, crowd favourite song.
George Downing
20
5'10 //90kg
Studying: 2nd year Maths & Economics
School: Glenstal Abbey
Honours: Munster U18 Schools
George was a key figure in the U20 all Ireland winning team from last season. His escapades in Munster has shaped him into a wrecking ball on and off the pitch. He has a history of injuring his teammates one particular incident involved a LUAS stop and a famous Mango. George's favourite things include d2 Thursdays, pulling hamstrings, concussions and studying in secret.
Giuseppe Coyne
20
6'0 //105kg
Studying: 3rd year BESS
School: Blackrock College
Honours: Leinster U20, A
"Champagne Peppy" is an outside back living in a props body. Scoring an outrageous 5 tries last season, Pep is not your traditional loosehead with the skill and speed of a centre, he is also the best impressionist since Joe Horan's departure from the club. Pep can be described as everyone's favourite pizza and enjoyed his fifth pizza at Forbidden Fruit this year.
Hugh Twomey
20
6'9 //86kg
Studying: 3rd year BESS
School: Gonzaga
Supposedly hailing from Cork, Hugh is a Gonzaga man through and through. Make of that what you will. He was involved in many of the Senior games at the beginning of last year and proved he can play at AIL standard. He then went on to play in the centre in the U20s side and was pivotal to the team's success. Hugh is often ridiculed and excluded from jokes and social events due to the fact that he is very tall.
Jack Dunne
20
6'7 //114kg
Studying: Theoretical Physics
School: St. Michaels
Honours: Leinster A, Seniors, Ireland U18 Schools, U19, U20
Dunners is another one of our Leinster bolsters as he made his senior debut in the teams win over Zebre last season. Dunners brings a phenomenal amount of experience and knowledge to the game and has shown to be a great addition to the club since his arrival. A towering second-row standing at 6'7" he brings a great physical presence and clarity to the team when he plays.
Jack Kelly
21
6'1 //90kg
Studying: Law
School: St. Michaels
Honours: Leinster U18 Schools, U19, U20, A, Seniors, Ireland U18 Schools, U19, U20, Ireland 7s
Our very own Globetrotter, Jack has travelled the world and is far more cultured and sophisticated than everyone else. He is coming into his 4th year with Trinity off the back of a very busy season where he played in a couple of the clubs AIL fixtures, captained Leinster A to a B&I Cup victory, won his first cap for Leinster Seniors and was selected for the Irish 7s in many of their World Series events. An electric fullback or wing with the power to play centre, Jack always has a big impact on every game he plays. Jack shows this video to everyone he meets so we thought we'd save him the effort.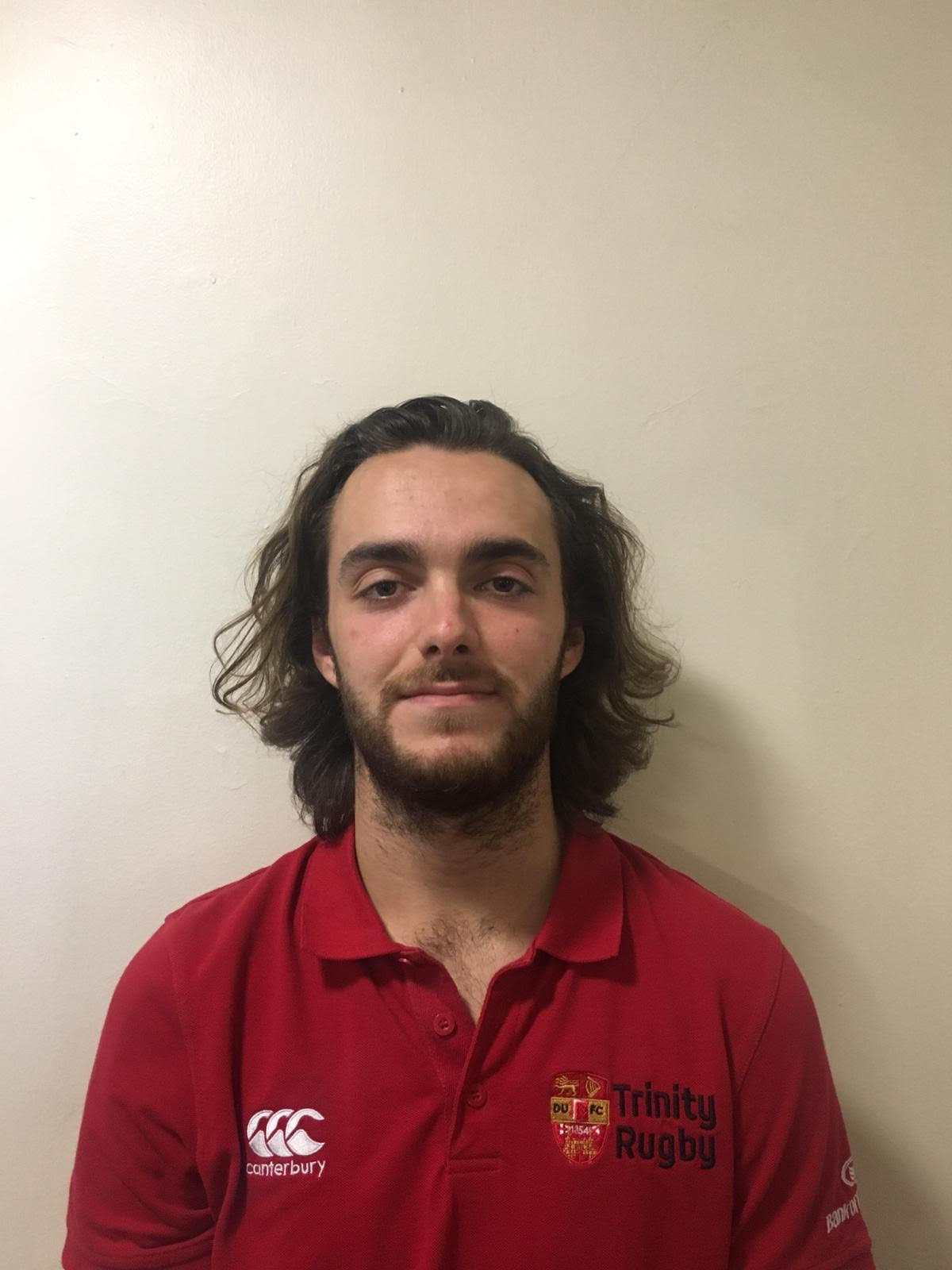 James Fennelly
22
6'1 //80kg
Studied: BESS
School: Blackrock College
Church Bells began ringing throughout Trinity as word had spread that Jesus Fennelly decided he would grace us with his almighty presence for another season. An outhalf with a laissez-faire approach to the game and an ability to put others into space with sublime touches of skill. His offloads, cross-fields and general outrageous play have Tony Smeeth pulling his hair out until he sees they have by some miracle come off. However he was unable to put out the fire he started on "Bad Boys" barbeque. The go to man if there is ever a crucial kick that needs to go between the sticks.
James Moriarty
21
6'0 //88kg
Studying: 1st year anything
School: Gonzaga College
Honours: Leinster U20s
"Morsh" captained the U20s side to All Ireland victory last year and proved to be a leader when one was needed. A physical and skilful centre, 'Morsh' has all the skills an inside back can want. His other skills include chatting to fifths to no avail, being the first person to get barred from the Pav and blaming Mick O'Kennedy for anything bad that happens to him. Morsh will hope to build on his successful season and play as much 1st XV rugby this year as he can.
Johnny McKeown
21
6'1 //93kg
Studying: Economics & History
School: Ballymena Academy
Honours: Ireland U18 Schools, Ulster U18 Schools, U19, Irish Universities
With an accent and demeanour that could make you weak at the knees, our Northern Irish backrow is certainly the heart-throb of the squad. Johnny has played a crucial role in the club since he arrived. A powerhouse at U20 level who has showed no signs of slowing down as he has made the transition to a weekly starter for the 1st XV last season. A tremendously hard-working individual, Johnny often leads from the front in both fitness and gym work.
Liam McMahon
20
6'1 //89kg
Studying: 2nd year Business Management DIT
School: Blackrock College
Liam "church boy" McMahon returns for his second year with Trinity after a successful season of three games where he was instrumental in winning the All Ireland title. Liam is a powerful and fast winger who is well able for AIL rugby, he will hope to fight his way into a starting spot on the 1st XV with the back three already looking like a fiercely contested spot. Off the field he likes to spend his downtime watching tik-tok videos, eating crisps and attending mass.
Liam Turner
20
5'10 //88kg
Studying: BESS
School: Blackrock College
Honours: Leinster U18 Schools, U19, U20, A, Ireland U19s, U20s
Turner is a powerful and fast centre or winger who comes into his second year with DUFC off the back of a very successful year. A crucial player in the Irish U20 Grand Slam winning and World Cup team, He also managed to carve out some time to represent Leinster A and score some brilliant solo tries. A talented footballer who can put in hard hits and kick off both feet, Turner is always up for a night out after a game, so long as he is allowed call his mummy every hour.
Louis O'Reilly
19
6'2 //85kg
Studying: 2nd year BESS
School: Blackrock
Honours: Leinster U18,19, 20
A hard hitting, physical scrum half who tackles like a back row. Louis arrived into Trinity off the back of a summer playing with Leinster U20s. With excellent game management and a strong kicking game he became a leader in the U20s All-Ireland winning side. He will be competing against his cousin Mas for game time with the firsts. Louis was frequently heard shouting "Mas who?!" in College Park while Mas was away on Erasmus last year.
Luis Faria
19
5' 11 //88kg
Studying: 2nd year BESS
School: Newpark Comprehensive
Honours: Leinster U19, Ireland U19
An Ireland U19 international, Luis was a crucial member of the U20s side last year. A strong ball carrier who has developed into an excellent ball player, Luis has already taken over from Joe Horan as Pedro's favourite player. After a strong showing in his 1st XV debut in a win against Cork Con, Luis will be looking to break into the starting line up this year.
Max Kearney
20
5'11 //90kg
Studying: 3rd year BBS
School: Belvedere College
Honours: Leinster U19, U20, Ireland U19, Irish Universities
The 'Hunchback of College Park' returns for his third season with the club. Max is a leader of men and was an influential player and person last season, driving standards and displaying a grit and determination that spread throughout the squad. Also known for his aggression and 'never give up attitude' on both the pitch and the dancefloor, Maxy will go to Coppers by himself if he has to.
Micheal O'Kennedy
20
6'0 //85kg
Studying: Business & Management, DIT
School: Gonzaga College
Mick started off last season as a leader for the 20s side and due to a run of very strong performances was deservedly called up the 1st XV after Christmas. He managed to hold on to the number ten jersey for the remainder of the season and played brilliantly. He will no doubt be a leader and crucial player to the club this year. The panic of inviting someone to Red and Black has already set in for Mick as he aims to bring a date who does not end up crying on the night for the first time ever. Third time lucky!
Michael Silvester
21
5'11 //88kg
Studying: 4th year BESS
School: Clongowes
Honours: Leinster U18s, U19s, U20s & Ireland U19s, U20s, Ireland 7s
A fullback with incredible footballing ability and great pace he casually turned up for his first game last season only to score a hat-trick, Silvo is a man who succeeds on and off the pitch. A man who has done it all from Ireland U20s to Leinster A, the Irish 7s and countless flashes of individual brilliance for Trinity. A thief in the night both on the pitch and at Red and Black, it remains unclear if Silvo and poor Spits will ever see eye to eye again.
Neilus Mulvihill
22
6'3 //97kg
Studying: Masters in Civil Engineering
School: Glenstal Abbey
Honours: Connacht U20s
Back Row/2nd Row who played two years of U20's rugby with D.U.F.C. and then took two years off due to injury and an exchange programme. We welcome him back to the Trinity Rugby family.
Patrick Hamilton
23
6'0 //96kg
Studying: Masters in International Management
School: Campbell College
Belfast number cruncher, the hooker turned backrow turned hooker is a powerful workhorse with some skills to boot. A very physical player who loves the contact side of the game, Paddy's decision to play another year for the club came as great news. He can be found inside the library in a plain t-shirt munching on burritos with Kwaylong O'Flynn.
Patrick Opperman
19
6' 3 //85kg
Studying: 2nd year Law and Business
School: Gerards
"The Operator" is one of, if not, the fastest player in the club. A true sprinter, the winger scored some ridiculous tries at U20 level last season and was one of the stars of last year's side. A great guy despite being from Gerards, Paddy has expressed a particular interest in extreme ironing.
Patrick Nulty
21
6'0 //92kg
Studying: 4th year MSISS
School: Clongowes Wood College
Nulty is 4th year who has had great suces with the club, anoter membor of the 2018 All Irland winning teem that have trancitiond into Senior rugby. Nulty is hooping to establesh himself as a regalar starter for the club in the backrow, his blistering peace and footwork and his ability to pick great lines ofen leave defenders for dead, huwever he usually fourgets to catch the bal. Nulty has a habit of going mising on team nights only to arrive into breakfist with a very vague descripshun of where he went and what he did.
Reuben Pim
20
6'3 //96kg
Studying: 3rd year BESS
School: Kilkenny College
Honours: Leinster Schools, 19s, 20s
A young but now experienced player, Reuben is a freakish athlete who has an engine that never seems to stop, he can slot in at either second row or backrow. Pimer is an uncompromising player and brings a competitive edge to any pack he plays in, found at the centre of any scuffle. A man with a world class sock game and sense of humour, Reuben often skips a post-match pint in favour of a glass of Max's home brew.
Rob Russell
20
6'0 //89kg
Studying: Business and Management
School: St. Michaels
Honours: Leinster U19s, U20s, A, Ireland U20s
Rob is now in his third year with the club and is impact on the pitch has grown rapidly with each season. He hit new heights last season as he was part of the Ireland U20s in both their 6 Nations grand slam win and the Junior World Cup. His natural ability of speed, skill and pace blend to form a very prolific wing or fullback, we look forward to seeing Rob tog out in the red and white this season as an experienced young talent. The whole squad awaits with excitement to see who Rob will invite to Red and Black this year, with most expecting James Moriarty to do it for him.
Ronan Quinn
19
5'7 //69kg
Studying: 2nd year Engineering
School: Glenstal Abbey
After quite the debut season, Quinny will be looking to pick up where he left off. 'Wee Man' got his first Senior Cap half way through the year when the groundsmen finally cut the grass short enough for Tony to see him zipping down the wing. Part of the first and only Glenstal winning Cup side, he brings plenty of confidence along with his ability and humour; all perfectly suited to DUFC rugby.
Rowan Osborne
22
5'6 //75kg
Studying: Engineering
School: Clongowes
Honours: Ireland U18 Schools, Leinster U20, Irish Universities
Rowan is one of the most experienced players in the squad as this is his 5th year with the club. His trademark sniping runs and speed of delivery were on full display in the Colours win last season with Ro winning the man of the match award. It didn't stop there however, due to Rowans excellent performances throughout the season he is now on a trial with Leinster this summer.
Ryan Baird
20
6'6 //110kg
Studying: 2nd year Computer science and Business
School: St. Michaels College
Honours: Leinster A, Seniors, Ireland U18 Schools, U19, U20
Ryan re-joins the squad after an immense season winning the Grand Slam with the Irish U20 team and also representing them in the World Cup. 'Bairdo' starred in various games for the senior squad last season and is hoping to excel to new heights this season. Ryan's biggest claim to fame is shouting "I'm coming for you" at Maro Itoje while in Magaluf. We look forward to seeing him standout this year and not only due to his Towering height and fiery red ginger hair.
Simon Clear
19
6'2 //98kg
Studying: 2nd year BESS
School: Gonzaga College
Honours: Leinster U18 Schools
A ball playing prop who can play both sides of the scrum, Simon was a very important player in last years All Ireland winning team. He maintains his weight by picking the pizza toppings off the pizzas he delivers for a living. A surprisingly good lad considering he went to Zaga, Simon puts in a massive shift every game and every night out.
Steve Gray
20
5'11 //89kg
Studying: 3rd year Physiotherapy
School: Kilkenny College
A product of Kilkenny College, Steve developed into a leader and crucial member of the U20s side last year. A cruel injury picked up in the act of scoring a try in the All Ireland semi-final win against Lansdowne ruled him out of the final. A strong carrier and thrower he has huge potential heading into Senior rugby. A keen cricketer, Steve always offers the lads massages which he claims is good practice for his degree.
Thomas Clarkson
19
6'2 //108kg
Studying: Human Health & Disease
School: Blackrock College
Honours: Leinster U18s, U20s, Ireland U18 Schools, U20s
TC quickly established himself as a tighthead prop of AIL quality last season in just his first year out of school. His scrummaging and ability to have a significant impact around the park were very impressive. He was instrumental to the success of the Irish U20s side in both their Grand Slam winning 6 Nations and World Cup campaigns, playing a monumental amount of minutes for a prop.
He has certainly added his weight in gold to the club, which is, well, a lot.
Tomas Killeen
21
5'11 //79kg
Studying: 4th year BESS
School: St. Michaels
Mas returns to Trinity rugby after a dislocated shoulder he picked up in the act of setting up a try against Terenure followed by a 6-month stint Down Under meant he was missed for quite some time. A courageous scrum half who never shies from a collision, Mas' speed of delivery from the base is of great value to any Trinity team. Mas' sniping moves are a threat to any defender or person who brings their girlfriend to Red and Black.